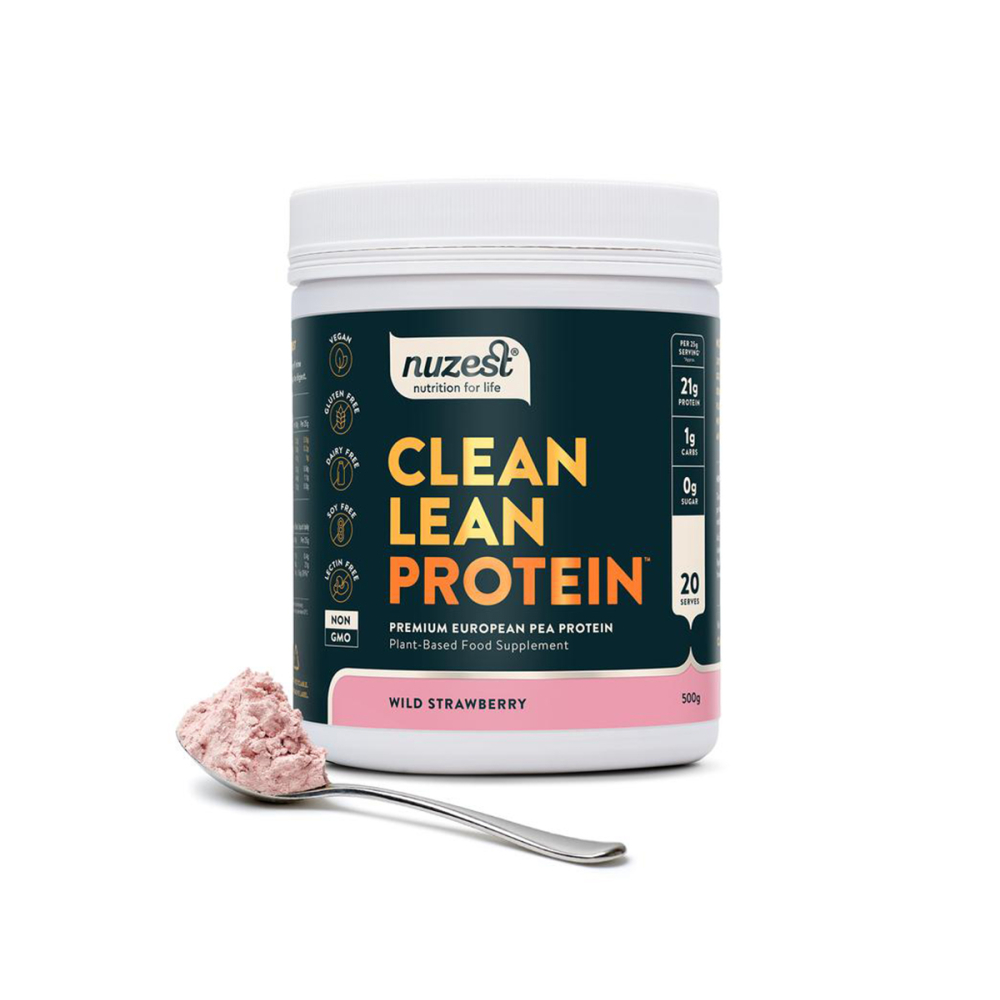 CLEAN PROTEIN WILD STRAWBERRY
Product Code: 456003
Pristatymo sąlygos
OMNIVA terminal (Baltic states)
From: 2.50€
VENIPAK terminal (Baltic states)
From: 2.50€
Delivery to door VENIPAK (Baltic states)
From: 3.20€
Delivery to door - DPD (Europe, except Baltic states)
12.00€
Description
Clean Lean Protein is the purest protein - natural and free of any allergens. It is a 100% vegetable product with low carbohydrate and high vegetable protein. Clean Lean Protein is an ideal protein product when choosing an active lifestyle and a healthy diet. Balanced for those who want to feel and look great.
Clean Lean Protein is needed for muscle growth and maintenance. Clean Lean Protein is made from the highest quality peas grown in Europe and is the most effective of all vegetable-based proteins. Most importantly, it contains all the essential amino acids. This product is easily digestible.
ALKALINE ADVANTAGES. Clean Lean Protein is alkaline (its pH 7.8) and gives athletes an advantage in reducing excess lactic acid.
Nuzest products are without:
Gluten
Milk and eggs
Soybeans, peanuts, sesame, mustard
GMO
Dyes and preservatives
Pesticides and products of animal origin
Directions
WILD STRAWBERRY
NUTRITION INFORMATION
Servings per container: 20
Serving size: 25g (2 scoops)
Avg. Qty.
Per 100g
Per 25g
*%RI
Energy
1745kJ
436kJ
415kcal
104kcal
Fat
8,6g
2,2g
  of which saturates
2,0g
0,5g
Carbohydrate
4,3g
1,1g
  of which sugars
0,3g
0,1g
Fibre
1,7g
0,4g
Protein
79,3g
19,8g
Salt
1,9g
0,5g
Iron
14,3mg
3,6mg
(25%)
NATURALLY OCCURRING AMINO ACIDS
Serving size: 25g (2 scoops) in 350mL liquid daily
Avg. Qty.
Per 100g
Per 25g
ESSENTIAL AMINO ACIDS
Histidine
2,0g
0,5g
Isoleucine
3,6g
0,9g
Leucine
6,7g
1,7g
Lysine
5,7g
1,4g
Methionine
0,9g
0,2g
Phenylalanine
4,4g
1,1g
Threonine
3,1g
0,8g
Tryptophan
0,8g
0,2g
Valine
4,0g
1,0g
NON-ESSENTIAL AMINO ACIDS
Alanine
3,4g
0,9g
Arginine
6,9g
1,7g
Aspartic acid
9,1g
2,3g
Cysteine
0,8g
0,2g
Glutamic acid
13,3g
3,3g
Glycine
3,2g
0,8g
Proline
3,6g
0,9g
Serine
4,2g
1,1g
Tyrosine
3,0g
0,8g
All specified values are averages.
*% Reference Intake.
Store in a cool dry place below 25°C.
INGREDIENTS PANEL WRITTEN
Pea protein isolate, Natural strawberry flavour, Beetroot powder, Natural vanilla flavour, Sweetener (steviol glycosides).
HOW TO USE: Pour two (25 g) scoops into 350 ml of water, milk (coconut, almond or rice) or juice and shake well. Or you can make a cocktail with yoghurt, fruit and berries. Use 1 to 3 times a day depending on the daily regimen or load.
Can be used by adults and children from 4 years.