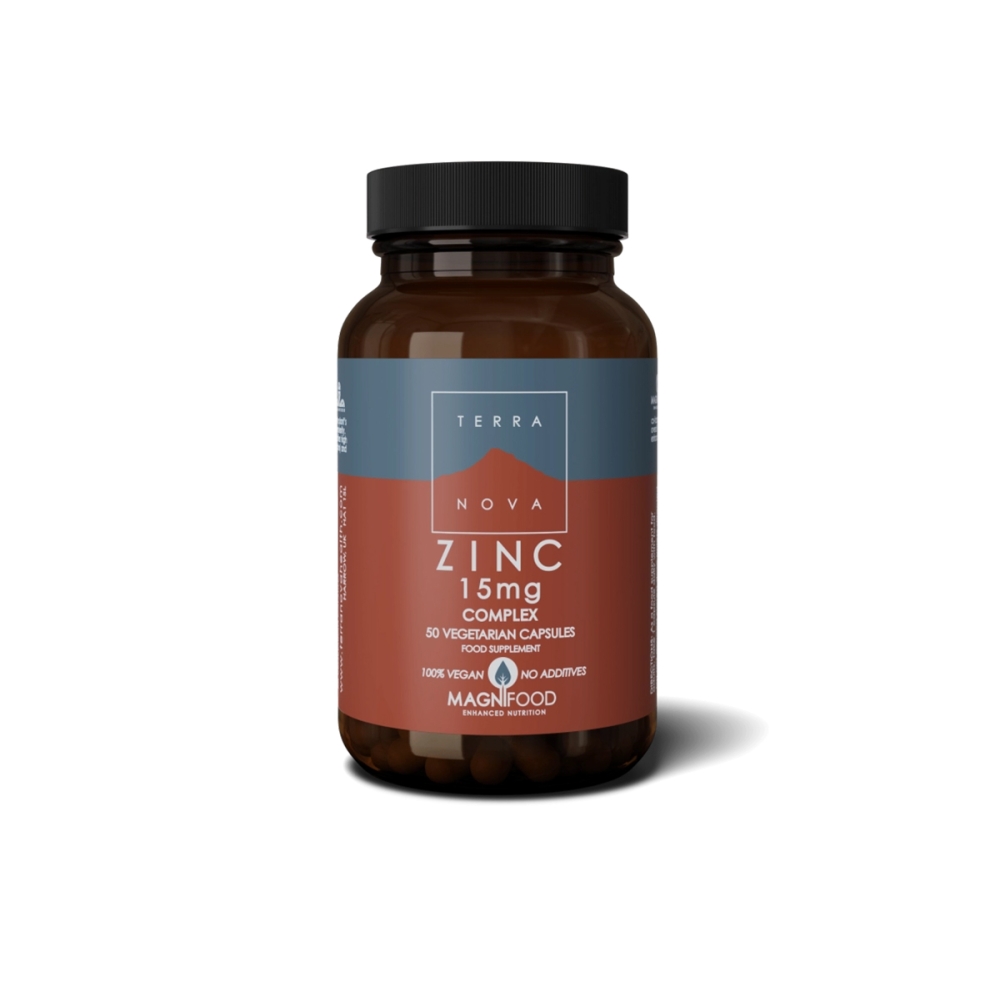 Zinc 15mg Complex
Pristatymo sąlygos
OMNIVA terminal (Baltic states)
From: 2.50€
VENIPAK terminal (Baltic states)
From: 2.50€
Delivery to door VENIPAK (Baltic states)
From: 3.20€
Delivery to door - DPD (Europe, except Baltic states)
12.00€
Description
Maisto papildas
Cinkas – elementas padedantis palaikyti tinkamą organizmo vystymasi, imuninę sistemą, svarbus žaizdų gijimo, uždegiminiuose ir kraujo krešėjimo procesuose. Padeda palaikyti normalią skydliaukės funkciją, regos funkciją, padeda palaikyti normalią neuronų komunikaciją – aktyvina koncentraciją ir atmintį.
Cinkas padeda palaikyti:
normalią rūgštinę-bazinę apykaitą;
normalią angliavandenių apykaitą;
normalią pažinimo funkciją;
normalią DNR sintezę;
normalų vaisingumą ir reprodukciją;
normalią maistinių makromedžiagų , normalią riebalų rūgščių, normalią vitamino A apykaitą;
normalią kaulų būklę, normalią plaukų būklę, normalią odos būklę, normalią nagų būklę;
palaikyti normalią baltymų sintezę;
normalią imuninės sistemos veiklą.
Cinkas padeda:
palaikyti normalią testosterono koncentraciją kraujyje;
padeda išsaugoti normalų regėjimą;
padeda apsaugoti ląsteles nuo oksidacinės pažaidos.
Spirulina padeda palaikyti organizmo gyvybingumą esant nuovargiui.
Kvapiojo moliūgo sėklos padeda palaikyti normalią prostatos ir šlapimo sistemos funkciją.
Svarbu įvairi ir subalansuota mityba bei sveikas gyvenimo būdas.
Vartojimas:
Suaugusiems vartoti po 1 kapsulę per dieną valgio metu;
Neviršyti nustatytos rekomenduojamos dozės;
Neturi būti vartojamas kaip maisto pakaitalas;
Laikyti vaikams nepasiekiamoje, vėsioje vietoje, ne aukštesnėje kaip +25 °C temperatūroje;
Jeigu sergate dėl maisto papildo vartojimo pasitarkite su gydytoju ar vaistininku;
Be glitimo, be kviečių, be papildomai pridėto cukraus, be sojos, be mielių, be pieno, be želatinos, be gyvulinės kilmės produktų, be dažiklių, be skonio stipriklių, be konservantų;
Tinkamas veganams ir vegetarams.
Tyrimais įrodyta, kad švieži, liofilizuoti (šaldant džiovinti), augalai yra pranašesni palyginus su kitais džiovinimo metodais, nes išsaugo augalo savybes ir originalią biocheminę sudėtį.
Directions
ONE VEGETARIAN CAPSULE TYPICALLY PROVIDES: MAGNIFOOD COMPLEX 400mg PROVIDING: Stabilized Rice Bran 250mg Spirulina [Spirulina platensis]-fresh freeze dried-ORGANIC 75mg Pumpkin Seed [Cucurbita pepo] 50mg Acai Berry [Euterpe oleracea]-fresh freeze dried-ORGANIC 25mg Zinc (as bisglycinate) 15mg NO FILLERS, BINDERS OR OTHER EXCIPIENTS SUITABLE FOR VEGETARIANS & VEGANS NO WHEAT – NO GLUTEN – NO CORN – NO SOY – NO YEAST – NO DAIRY – NO GELATINE – NO ANIMAL INGREDIENTS – NO ADDITIVES – NO ADDED SUGAR – NO COLOURS – NO FLAVOURS – NO PRESERVATIVES DIRECTIONS: As a food supplement for adults, take 1 capsule daily with food. Do not exceed stated dose unless directed by a healthcare practitioner. KEEP OUT OF REACH OF CHILDREN / STORE IN A COOL, DRY PLACE Food supplements should not be used as a substitute for a varied diet. Not recommended during pregnancy or breastfeeding unless on the advice of a healthcare practitioner. If taking prescribed medication, consult a physician before using this product.