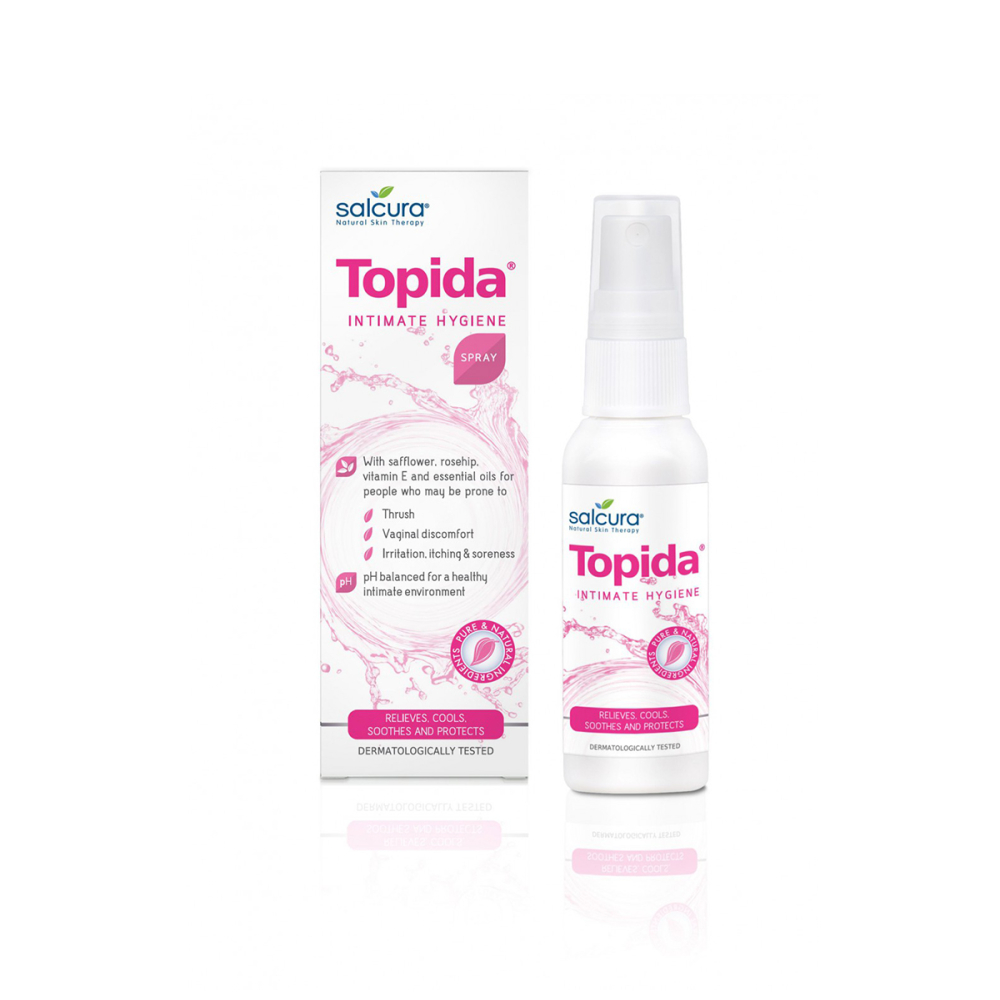 TOPIDA INTIMATE HYGIENE SPRAY 50 ml
Product Code: 231
Pristatymo sąlygos
OMNIVA terminal (Baltic states)
From: 2.50€
VENIPAK terminal (Baltic states)
From: 2.50€
Delivery to door VENIPAK (Baltic states)
From: 3.20€
Delivery to door - DPD (Europe, except Baltic states)
12.00€
Description
Topida has been specifically formulated to soothe, cool and calm by creating a healthy microbial balance on the affected areas. This effective, quick acting solution balances the pH levels and essential nutrients help maintain skin cells in a viable and healthy condition. Containing numerous natural oils and extracts like Tea Tree, Eucalyptus, Fennel, Lavender, Rosehip and Peppermint, the Spray effectively supports your vaginal environment back to health. It will provide fast relief from any discomfort and itchiness.
Ingredients
Aqua (Water), Melaleuca Alternifolia (Tea Tree) Leaf Oil, Glyceryl Oleate Citrate, Phenoxyethanol, Carthamus Tinctorius (Safflower) Seed Oil, Olea Europaea (Olive) Fruit Oil, Caprylic/Capric Triglyceride, Chlorphenesin, Eucalyptus Globulus (Eucalyptus) Leaf Oil, Polyacrylate Crosspolymer-6, Lactic Acid, Cinnamomum Zeylanicum (Cinnamon) Leaf Oil, Citrus Limon (Lemon) Peel Oil, Foeniculum Vulgare (Fennel) Oil, Lavandula Angustifolia (Lavender) Oil, Rosa Canina (Rosehip) Fruit Oil,Thymus Vulgaris (Thyme) Oil, Sodium Lactate, Ethylhexylglycerin, Mentha Piperita (Peppermint) Oil, Tocopherol, Sodium Phytate,Hippophae Rhamnoides (Sea Buckthorn) Fruit Oil, Limonene, Eugenol, Linalool, Benzyl Benzoate, Cinnamal, Citral, Geraniol, Cinnamyl Alcohol
Directions
What makes Topida unique? - Instant relief from itchiness & soreness - High grade essential oils to restore a natural pH balance - Full of Vitamin E (anti-oxidant) - With Lactic Acid to support a healthy vaginal environment - Easy application with 360 degree Spray DIRECTIONS: Apply at least 1-2 times a day initially onto the affected areas. Allow the liquid to sink in. If you have highly sensitive skin, make sure to patch test to ensure the natural oils do not sting too much. The oils do no harm, but we do not want it to be uncomfortable either of course! In the rare occasion that it does sting a little, please know what it will subside quickly as the skin gets used to all the natural oils. When the symptoms have subsided, make sure to continue using Topida regularly to keep topping up the skin with healthy nutrients.