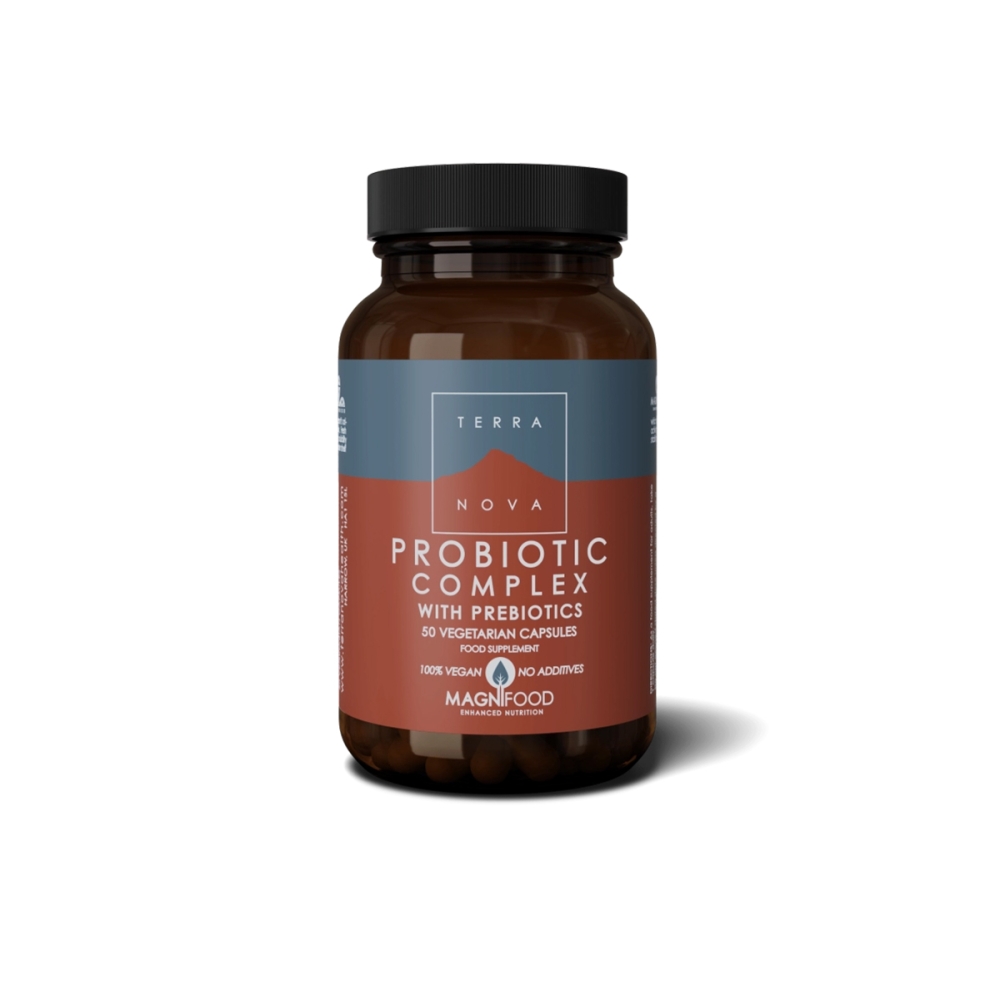 Terranova Probiotic Complex with Prebiotics
Product Code: 8881275
Pristatymo sąlygos
OMNIVA terminal (Baltic states)
From: 2.50€
VENIPAK terminal (Baltic states)
From: 2.50€
Delivery to door VENIPAK (Baltic states)
From: 3.20€
Delivery to door - DPD (Europe, except Baltic states)
12.00€
Description
50 capsules
Terranova Probiotic Complex with Prebiotics incorporates a unique blend of Rosell microflora strains (which have been extensively studied and most heavily researched for their efficacy & stability) and specific soluble fibres, in order to improve the efficacy of beneficial bacteria.
Ingredients
Each capsule contains: Lactobacillus plantarum (Rosell-1012) 1 billion organisms*
Lactobacillus casei (Rosell-215) 800 million organisms*
Lactobacillus rhamnosus (Rosell-11) 700 million organisms*
Lactobacillus acidophilus/helveticus (Rosell-52) 500 million organisms*
Bifidobacterium lactis (CHR Hansen BB-12) 500 million organisms*
all above strains are of non-dairy origin
*potency at time of manufacture
Fructo-oligosaccharides (from Cichorium intybus root) 100 mg;
Arctium lappa L. (Burdock root – fresh freeze dried & powdered) 75 mg;
Larix occidentalis Nutt. – arabinogalactan (larch tree dried and powdered bark & resin) 50 mg;
Beta vulgaris L. (beetroot greens & juice – fresh freeze dried & powdered) 25 mg;
Oryza sativa L. (stabilised, air dried & powdered rice germ and bran) 25 mg
Table
Probiotic Blend non Dairy (Lactobacillus plantarum,

Lactobacillus casei, Lactobacillus rhamnosus,

Lactobacillus acidophilus, Bifidobacterium lactis)

188 mg
FOS (fructooligosaccharides)
100 mg

Magnifood Complex (Larch Tree Arabinogalactan,

Burdock Root (fresh freeze dried), Beetroot Juice & Greens (fresh freeze dried),

Stabilised Rice Bran)

175 mg
* % Daily Value
Directions
When ingested on a regular basis, probiotics should improve or normalise the microbial balance in the human intestines and thereby improve the functioning of the digestive tract/gut.
Recommended use: Adults: Take 1 capsule daily with food.
For optimal stability, refrigerate after opening.
Supplement facts: Capsules per container: 50
GMO free
Gluten free
Sugar free
Artificial additive and excipient free
Suitable for vegans and vegetarians
Contraindications: Hypersensitivity (allergy) to any of the ingredients.
Warnings and special precautions: Food supplements should not be used as a substitute for a varied diet. Not recommended during pregnancy or breastfeeding unless on the advice of a healthcare practitioner. If taking prescribed medication, consult a physician before using this product. Do not exceed stated dose unless directed by a healthcare practitioner. KEEP OUT OF REACH OF CHILDREN. For more details, please see the Patient Information Leaflet.
Category D: Health supplement
This unregistered medicine has not been evaluated by the SAHPRA for its quality, safety or intended use.