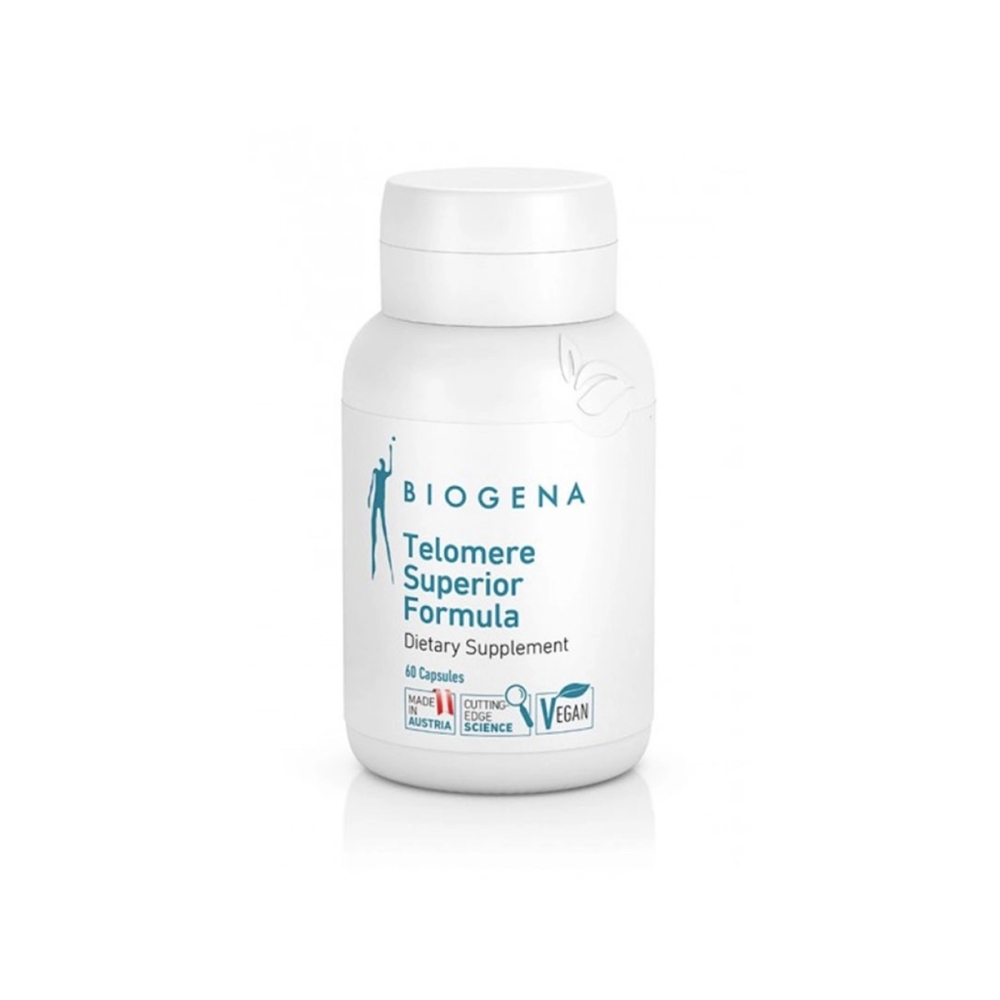 Telomere Superior Formula
Product Code: 1619
Pristatymo sąlygos
OMNIVA terminal (Baltic states)
From: 2.50€
VENIPAK terminal (Baltic states)
From: 2.50€
Delivery to door VENIPAK (Baltic states)
From: 3.20€
Delivery to door - DPD (Europe, except Baltic states)
12.00€
Description
Dietary Supplement
60 capsules
35 g
Telomere Superior Formula
The new way of healthy aging
Dietary Supplement
Sirtuins and aging processes
Sirtuins are a group of enzymes, which support cellular regeneration and therefore are involved in the human aging process. They are closely involved in the functions of the vitamin niacin, which improves energy yield in the mitochondria, the cellular "power house", and thus is involved in the normal energy metabolismof the body. Science is aware of some plants involved in the activation of sirtuins; typical examples are turmeric, green tea or even broccoli. Plant substances such as resveratrol, pterostilbene or the bioflavonoid quercetin are also closely connected to the activity of sirtuins. Biogena Telomere Superior Formula combines these bioactive plant substances and other active substances in a newly developed micronutrient preparation and supports the cellular energy yield and cell integrity with the vitamin niacin.
Telomere Superior Formula
Potent combination to support healthy aging and maintain youthful energy
With niacin, which is required for the activity of sirtuins, improves energy yield in the mitochondria, and thus is involved in normal energy metabolism
With resveratrol and pterostilbene to maintain youthful gene expression and cellular energy production
With a combination of potent plant extracts that protect mitochondria from free radicals, which contribute to cellular aging
Table
Amount per serving
RMV*%
Niacin (as nicotinamide)
48 mg NE**
300%
Green tea leaf extract, contains: catechins epigallocatechin gallate (ECG)
300 mg 240 mg 180 mg
Curcuma extract (from rhizome of Curcuma longa)
150 mg
Trans-resveratrol (from yeast fermentation)
60 mg
Quercetin (from Dimorphandra mollis fruits)
100 mg
Pterocarpus extract (from Pterocarpus marsupium wood) contains pterostilbene
100 mg 5 mg
Broccoli sprout extract contains glucoraphanin
60 mg 6 mg
*Daily Value not established.
Directions
2 capsules once per day taken with plenty of liquid. If you are pregnant or nursing, or taking prescription medications, consult your healthcare provider before taking this product. Store in a cool, dry place. Keep out of reach of children.