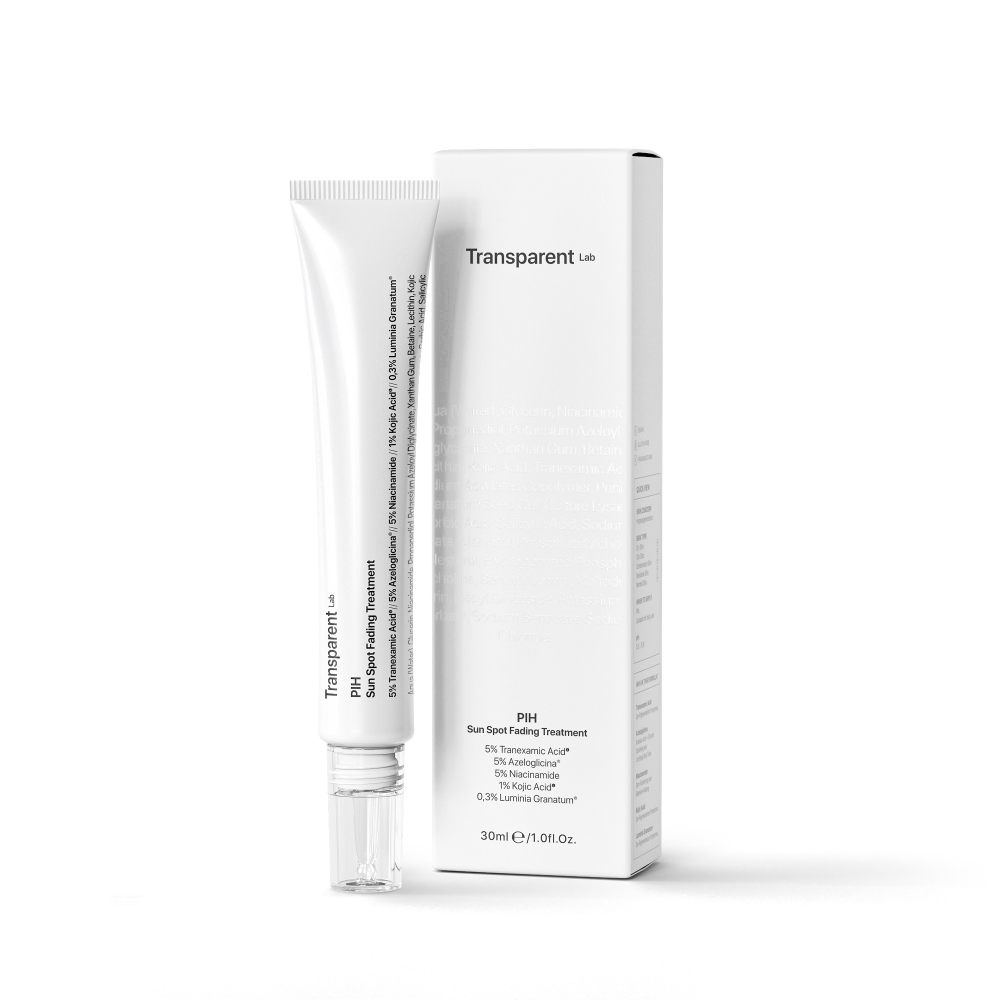 P.I.H Sun Spot Fading Treatment
Product Code: 1421
Pristatymo sąlygos
OMNIVA terminal (Baltic states)
From: 2.50€
VENIPAK terminal (Baltic states)
From: 2.50€
Delivery to door VENIPAK (Baltic states)
From: 3.20€
Delivery to door - DPD (Europe, except Baltic states)
12.00€
Description
30 ml
Treatment for Post-Inflammatory Hyperpigmentation
Did you know that not all spots on the skin appear due to the same reason? That is why it is essential to correctly identify the type of spot to be treated. We at Transparent Lab are the first to segment the range of spot correcting products and to focus on their range of action. The PIH Sun Spot Fading Treatment is ideal for treating dark spots that appear due to an overproduction of melanin following skin inflammation, scarring, hormonal episodes and exposure to the sun.
Ingredients
Aqua (Water),Glycerin, Niacinamide,Propanediol, PotassiumAzeloyl Diglycinate, XanthanGum, Betaine, Lecithin, KojicAcid, Tranexamic Acid,Sodium Acrylates Copolymer,Punica Granatum Seed CellCulture Lysate Sorbic Acid,Salicylic Acid, SodiumPhytate, Mannitol,Phosphatidylcholine,Cholesterol, HydrogenatedPhosphatidylcholine, BenzylAlcohol, Maltodextrin, DecylGlucoside, PotassiumSorbate, Sodium Benzoate,Sodium Chloride.
Directions
How to use:
Apply a small amount of product onto affected area. Massage gently with the fingertips until it is completely absorbed.
This product may increase your skin's sensitivity to the sun. Use a sunscreen and limit your exposure to the sun during the use of this product. Use SPF in your daily routine to prevent the appearance of new spots.