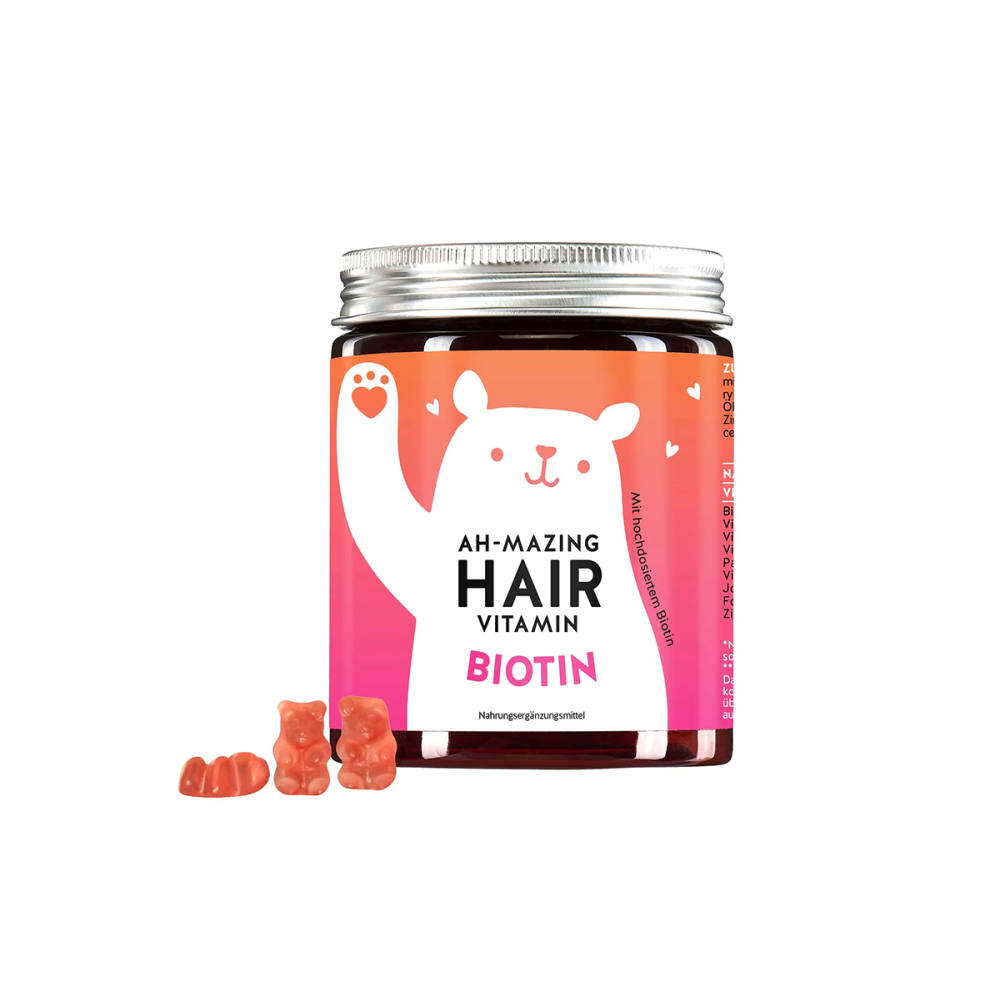 Hair Vitamins Biotin
Product Code: 1287
Pristatymo sąlygos
OMNIVA terminal (Baltic states)
From: 2.50€
VENIPAK terminal (Baltic states)
From: 2.50€
Delivery to door VENIPAK (Baltic states)
From: 3.20€
Delivery to door - DPD (Europe, except Baltic states)
12.00€
Description
Package content:
60 bears = 150 grams

For hair, skin and nails
Ah-mazing Hair Vitamins with Biotin are a highly concentrated beauty vitamin complex with 5,000 mcg biotin per bear, also known as vitamin B7 or vitamin H, which is tailored to the maintenance of normal hair, skin and nails - twice as much as in other biotin gummy bears! Biotin has been shown to contribute to normal energy metabolism and the maintenance of normal skin, nails and hair. The intelligent beauty vitamin complex is also supplemented by vitamins B5, B6 and zinc, folic acid, vitamin A, vitamin C, vitamin E, inositol, pantothenic acid (vitamin B5) and high-quality coconut oil. The bears are suitable for permanent consumption.
Ingredients
VEGAN - NO ARTIFICIAL ADDITIVES - NOT TESTED ON ANIMALS
Glucose syrup, sugar, dextrose, gelling agent pectins, acidifying agent citric acid, L-ascorbic acid, natural flavor, DL-alpha-tocopheryl acetate, D-biotin, carrot concentrate, sweet potato concentrate, vegetable oils (coconut, rapeseed), D-calcium pantothenate , Sweetener steviol glycosides, zinc gluconate, pyridoxine hydrochloride, coating agent carnauba wax, retinyl acetate, pteroylglutamic acid, potassium iodide, choline, inositol.
Table
NUTRIENT:
PORTION (1 PC):
NRV: *
VITAMINS & MINERALS
Biotin
5,000 µg
10,000%
Vitamin A
315 µg RE
39.4%
vitamin C
11.6 mg
15%
Vitamin E.
5.5 mg α-TE
45.8%
Pantothenic acid
2.6 mg
43.3%
Vitamin B6
1 mg
71.4%
iodine
21.8 µg
15.0%
Folic acid
130 µg
65%
zinc
1.45 mg
15%
OTHER SUBSTANCES
Choline
20 µg
**
Inositol
20 µg
**
* Nutritional reference values ​​(NRV) according to EU regulation 1169/2011 (LMIV) **
Directions
Take 1 piece a day

No recommendation according to LMIV. Store the product out of the reach of small children. If you are pregnant or breastfeeding, please consult your doctor before taking it. The specified recommended consumption quantity must not be exceeded. Taking biotin can affect blood tests (laboratory tests). Please inform your doctor about taking the product before taking a blood sample. Dietary supplements are not a substitute for a varied and balanced diet and a healthy lifestyle. Cool, dry place under 25 ° C .