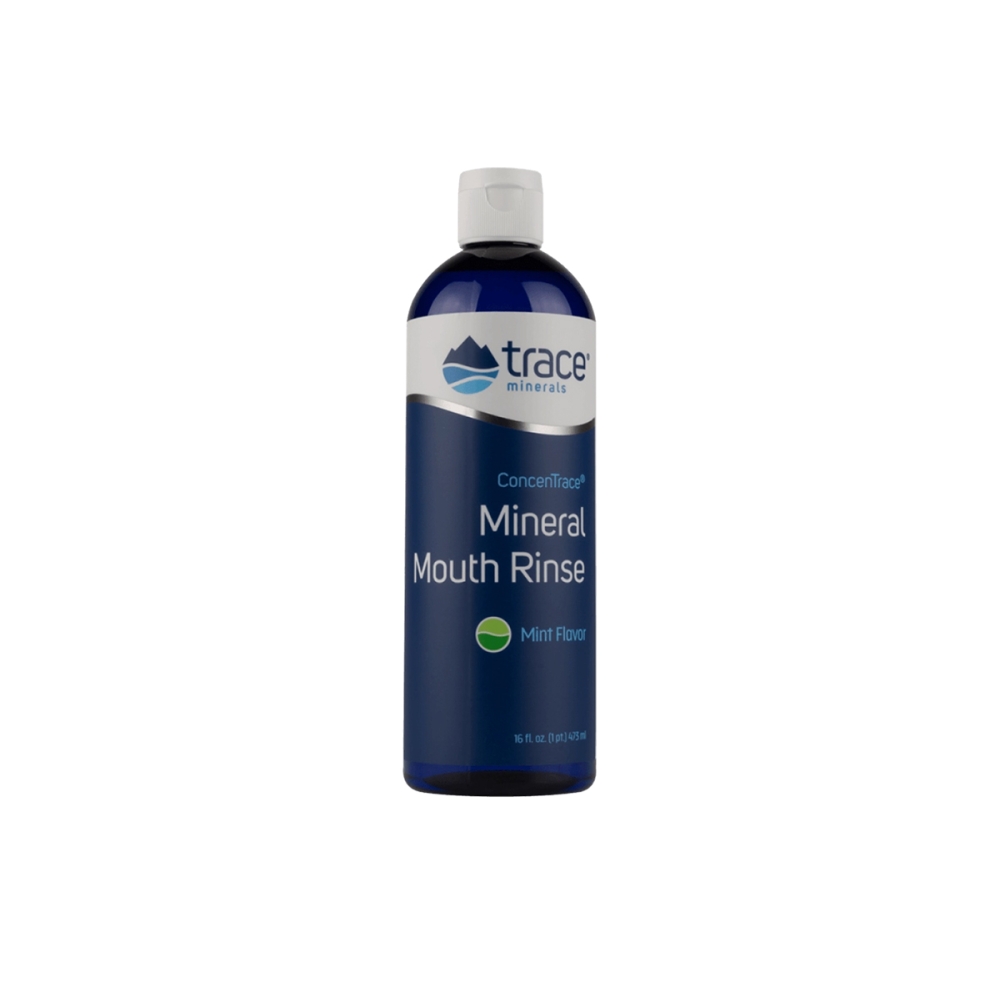 ConcenTrace® Mineral Mouth Rinse
Product Code: 1610
Pristatymo sąlygos
OMNIVA terminal (Baltic states)
From: 2.50€
VENIPAK terminal (Baltic states)
From: 2.50€
Delivery to door VENIPAK (Baltic states)
From: 3.20€
Delivery to door - DPD (Europe, except Baltic states)
12.00€
Description
ConcenTrace® Mineral Mouth Rinse is a alcohol free, gentle rinse that helps to promote fresh breath, and a clean feeling the natural way. It's made with ConcenTrace® ionic trace minerals, America's #1 selling trace mineral supplement, colloidal silver, and peppermint essential oil. This unique blend helps rinse your teeth and gums of food debris while the minerals help to neutralize odors and acidic foods that cause bad breath, leaving your mouth clean and your breath fresh.
100% natural product.
Contains 72+ ConcenTrace mineral complex.
Colloidal silver.
GMO and gluten free.
Colloidal silver is an effective natural antiseptic that affects more than 650 species of bacteria, viruses and fungi. It has an anti-inflammatory effect, accelerates the healing of damaged tissues and protects against oral diseases. Concen Trace ionic minerals - small molecules that mineralize your teeth. This increases the strength (density) of the enamel and fills in superficial enamel cracks. Neutralizes the acid produced by bacteria, maintains the pH balance, thus protects the teeth from the formation of plaque, helps maintain healthy gums and fresh breath. Mint oil provides a long-lasting feeling of freshness.
Ingredients
INGREDIENTS: Purified water, Utah Sea Minerals™, ConcenTrace® sea minerals, peppermint essential oil, xylitol, steviol glycosides, colloidal silver, citric acid, potassium sorbate (for freshness).
Directions
DIRECTIONS FOR USE: Use daily. Rinse mouth at full strength for 30 seconds with 20 mL (2/3 fluid ounce or 4 teaspoons) morning and night for best results. Do not swallow. Keep out of reach of children.
Manufacturer: Trace Minerals Research, 1996 W. 3300 S., Ogden, Utah 84401, United States. Distributor: MB Natura medica, S.Banaičiog.21, LT-47269, Kaunas, Lithuania. Country of origin: USA. Lot No: see on the package. Best before ... (end): see on the package.