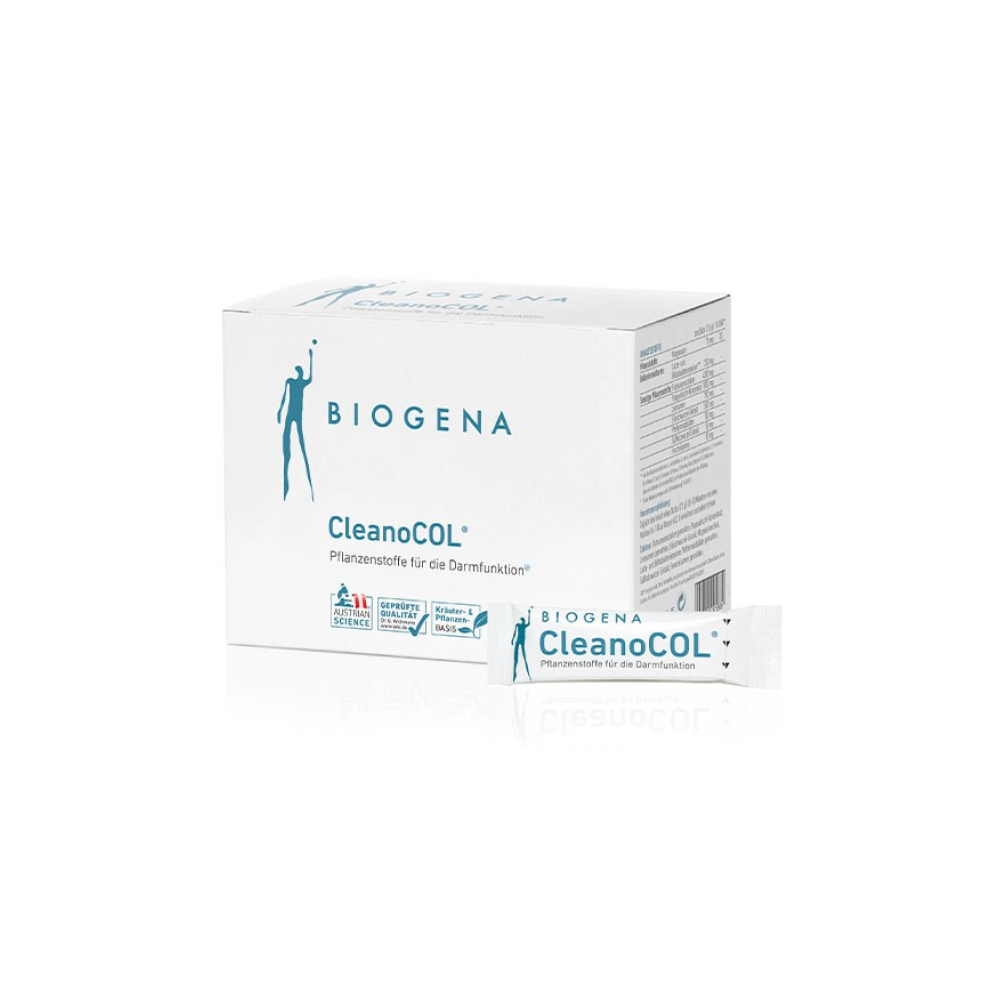 CleanoCOL®
Product Code: 1395
Pristatymo sąlygos
OMNIVA terminal (Baltic states)
From: 2.50€
VENIPAK terminal (Baltic states)
From: 2.50€
Delivery to door VENIPAK (Baltic states)
From: 3.20€
Delivery to door - DPD (Europe, except Baltic states)
12.00€
Description
30 powder sachets
225 g
Stimulating dietary fibre preparation from swellable plant fibres, bacterial cultures and magnesium.
CleanoCOL® is a dietary fibre preparation for supporting the intestinal functions. A high proportion of the powder is made up of dietary fibre-rich plant fibres, such as psyllium (Plantago ispaghula) and linseed (Linum usitatissimum), which are highly swellable. In addition to these plant fibres, the powder contains 10 lacto- and bifida strains and the mineral magnesium.
Table
| | |
| --- | --- |
| Ingredients | 7,5 g |
| Magnesium | 75mg |
| Lacto- and bifidobacteria** | 250mg |
| Ground psyllium husks | 4300mg |
| Papaya fruit concentrate | 1000mg |
| Linseed ground | 750mg |
| Marshmallow root extract | 500mg |
| Ground peppermint leaves | 100mg |
| Liquorice root extract | 50mg |
| Ground fennel seeds | 50mg |
Directions
Daily dissolve the content of one stick (7.5 g) into 1 glass water (0.2 l) 30-50 minutes before a meal and drink immediately. Ingredients Ground psyllium husks, papaya fruit concentrate, ground linseed, marshmallow root extract, magnesium citrate, lacto- and bifidobacteria powder**, ground peppermint leaves, liquorice root extract, ground fennel seeds. ** with the bacterial strains: L. acidophilus, L. casei, L. paracasei, L. plantarum, L. rhamnosus, B. bifidum, B. lactis, B. longum, B. breve, S. thermophilus. Corresponds to 1.5 billion colony-forming units (CFU) per portion at the time of bottling. Food supplement: The recommended daily dosage should not be exceeded. No substitute for a balanced and varied diet and a healthy lifestyle. Suitable for diabetics. The information provided here is not a statement on healing or a recommendation to self-medicate. Pure substance principle Only active ingredients (without excipients, without colouring, by law without preservatives, no technological additives such as binding or anti-caking agents, no hidden additives).