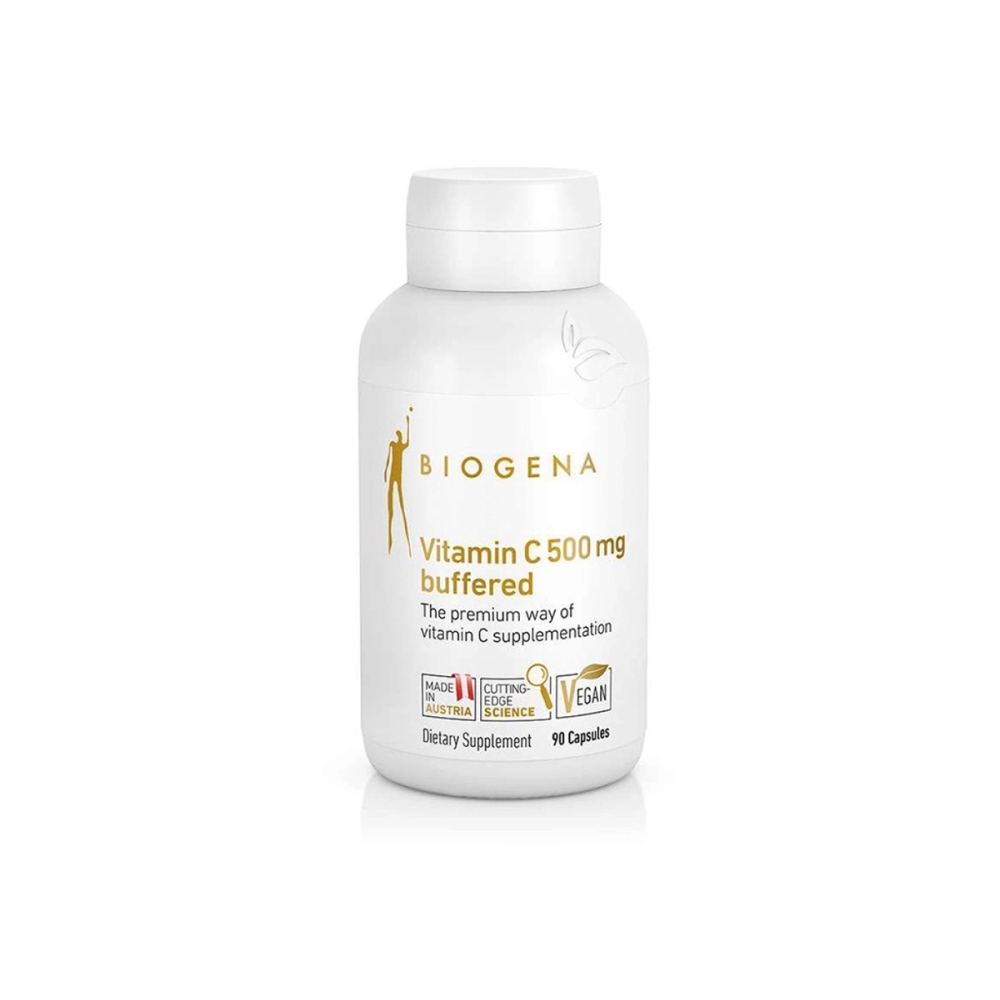 Biogena Vitamin C buffered GOLD
Product Code: 1642
Pristatymo sąlygos
OMNIVA terminal (Baltic states)
From: 2.50€
VENIPAK terminal (Baltic states)
From: 2.50€
Delivery to door VENIPAK (Baltic states)
From: 3.20€
Delivery to door - DPD (Europe, except Baltic states)
12.00€
Description
90 capsules
82 g

Vitamin C is primarily known for its effect on the immune system. However, vitamin C can do more than that and is involved in many other processes in the body. Through its role in collagen formation, the water-soluble vitamin supports the normal functioning of the blood vessels. Furthermore, it is important for our antioxidative defence system: It contributes to protecting the cells against oxidative stress and recycles used vitamin E. The stomach-friendly vitamin C complex Biogena Vitamin C 500 buffered GOLD is a blend of vitamin C and various flavonoid compounds to provide enhanced vitamin C support. It contains a natural vitamin C complex that is well absorbed and lasts longer than regular vitamin C. This non-acidic, stomach-friendly vitamin C complex is also recommended for sensitive individuals. Biogena Vitamin C 500 buffered GOLD
Premium class vitamin C: easily absorbed, stomach-friendly, long-lasting immune support**
Supports the immune and the antioxidant system**
For skin, blood vessels and gums**
Increases the uptake of iron**
Helps reduce tiredness and fatigue**
Ingredients
Calcium-L-ascorbate/L-threonate , hydroxypropylmethylcellulose (capsule shell), elderflower extract, bulking agent: cellulose powder, quercetin, grape seed extract. Food supplement: The recommended daily dosage should not be exceeded. No substitute for a balanced and varied diet and a healthy lifestyle. Suitable for diabetics. The information provided here is not a statement on healing or a recommendation to self-medicate.
Table
1 capsule
% NRV*
Ester-C® Vitamin C, containing L-threonate
650 mg 500 mg 7 mg
625 %
Elderflower extract containing: rutin
100 mg 4 mg
Quercetin
10 mg
Grape seed extract
10 mg
* % OF NUTRIENT REFERENCE VALUES IN ACCORDANCE WITH EU REGULATION 1169/2011.
Directions
1 capsule daily taken with a meal and plenty of liquid. PACKAGE SIZE AND CONTENT 90 capsules (3 month supply), 82 g.