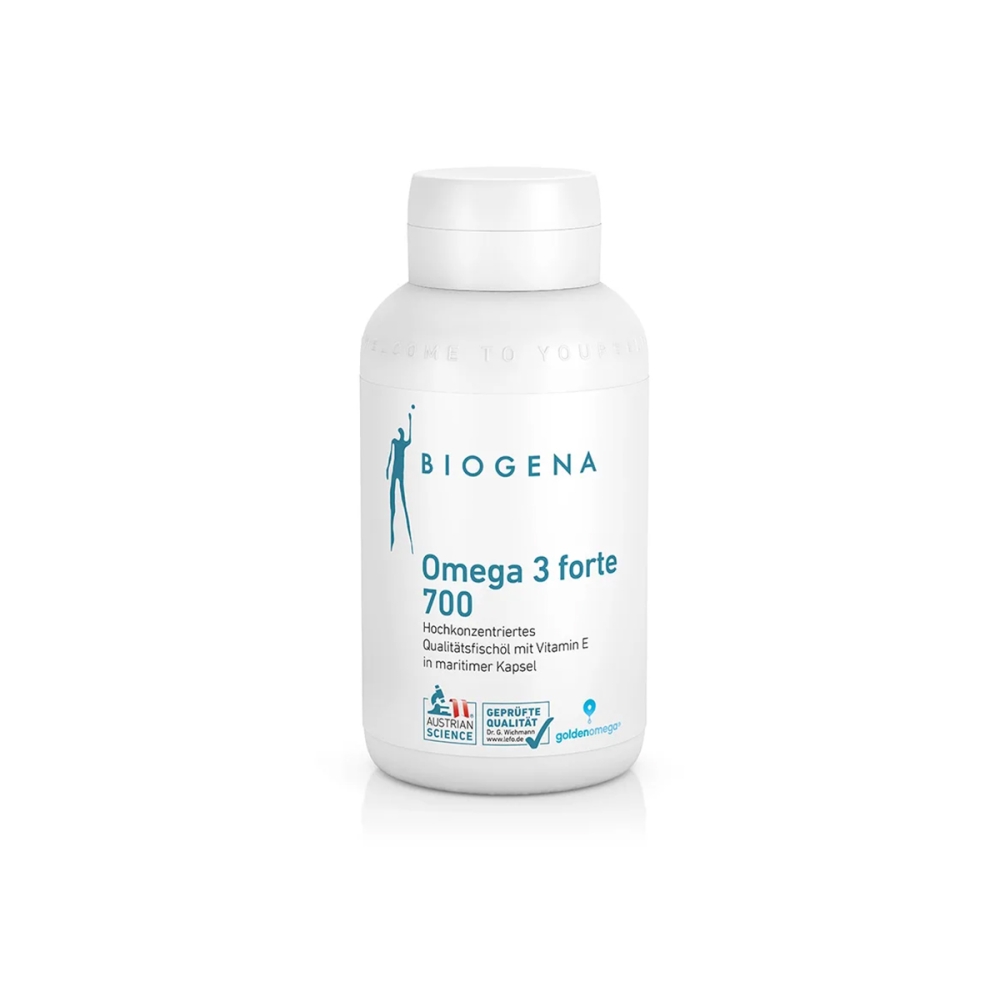 Biogena Omega 3 forte 700
Product Code: 1617
Pristatymo sąlygos
OMNIVA terminal (Baltic states)
From: 2.50€
VENIPAK terminal (Baltic states)
From: 2.50€
Delivery to door VENIPAK (Baltic states)
From: 3.20€
Delivery to door - DPD (Europe, except Baltic states)
12.00€
Description
Food supplement

90 capsules
121 g
Highly-concentrated premium fish oil with vitamin E in a fish-derived capsule Omega 3 forte 700 now contains even higher concentrations of valuable omega-3 fatty acids EPA (eicosapentaenoic acid) and DHA (docosahexaenoic acid). Every capsule supplies 700 mg of omega-3 fatty acids, of which 400 mg are EPA and 300 mg are DHA. The quality fish oil used comes from freshly caught anchovies from the clear waters around the coast of Peru and Chile, and is processed using state-of-the-art technology by the young Chilean company Golden Omega. The combination is rounded off with vitamin E. Omega 3 forte 700 allows significant amounts of omega-3 fatty acids to be taken in by anybody wishing to have a high and guaranteed EPA and DHA intake in their daily diet. Physiological importance of some selected vital substances contained: • The daily total intake of 250 EPA and DHA contributes to maintaining normal cardiac functions • Vitamin E helps protect the cells against oxidative stress due to its antioxidant properties Possible uses: • For the nutritional support of the normal cardiac functions • To improve the intake of the vital omega-3 fatty acids DHA and EPA, especially in cases of low fish consumption, an aversion to fish, or in cases of increased requirement Bioavailable micronutrients in a pure form • Only active ingredients • Free of additives • Without colours, flavours or glazing agents • Gluten-free • Lactose-free • Fructose-free • Quality tested
Ingredients
Fish oil concentrate, gelatine from fish (capsule shell), D-alpha-tocopherol. The recommended daily dosage should not be exceeded. No substitute for a balanced and varied diet and a healthy lifestyle.
Table
2 capsules
*NRV%
Fish oil concentrate, containing eicosapentaenoic acid (EPA) docosahexaenoic acid (DHA)
2000 mg 800 mg 600 mg
Vitamin E
20 mg α-TE1
167 %
*% OF NUTRIENT REFERENCE VALUES IN ACCORDANCE WITH EU REGULATION.
Directions
2 capsules daily taken with a meal and plenty of liquid Do not exceed the established recommended daily dose. The food supplement should not be used as a food substitute. Keep out of reach of children. Protect from direct sunlight. Manufacturer: BIOGENA GmbH & Co KG, Strubergasse 24 A-5020, Salzburg, Austria. Distributor: UAB Idėjos partneriai, Vingrių str. 6A-5, LT-01141, Vilnius. Best before: see on the package Lot no. see on the package