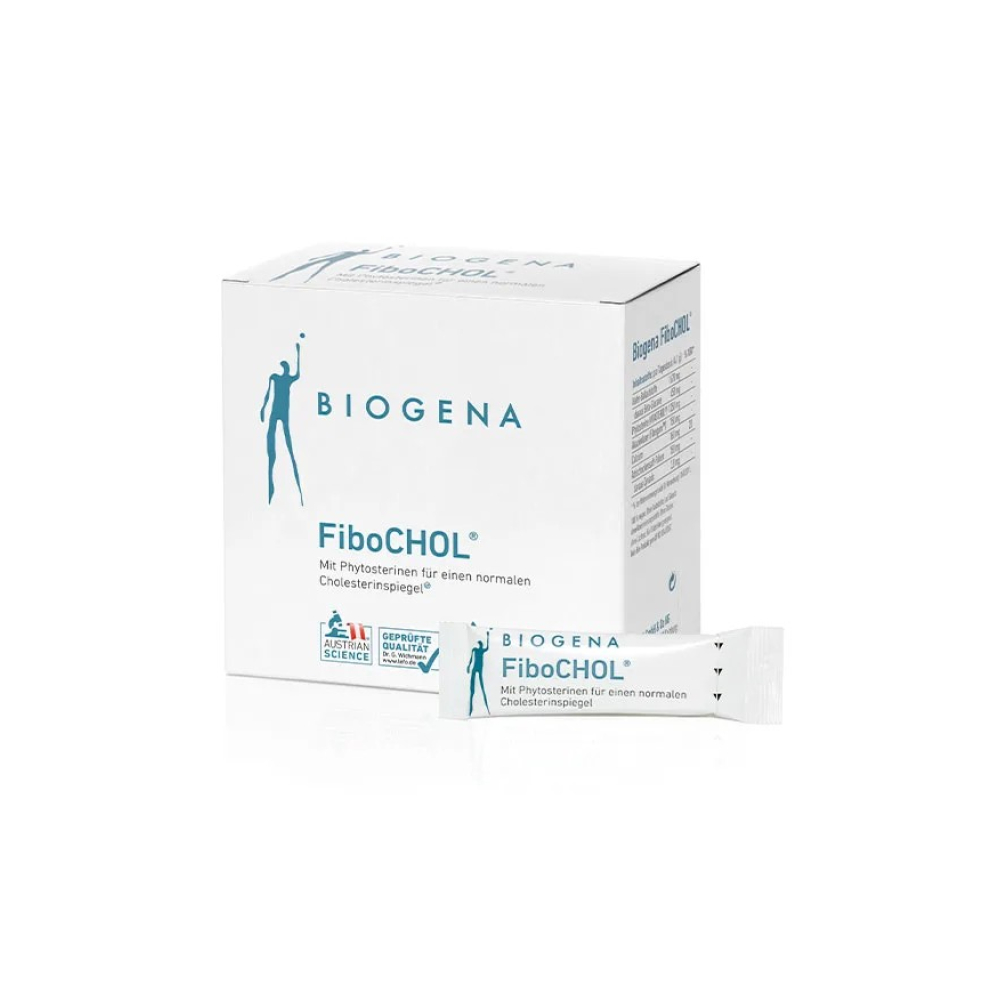 Biogena FiboCHOL®
Product Code: 1620
Pristatymo sąlygos
OMNIVA terminal (Baltic states)
From: 2.50€
VENIPAK terminal (Baltic states)
From: 2.50€
Delivery to door VENIPAK (Baltic states)
From: 3.20€
Delivery to door - DPD (Europe, except Baltic states)
12.00€
Description
Powder. 30 sticks 123 g
The natural cholesterol management from the To-Go-Stick
Cholesterol is a question of balance - and FiboCHOL® Healthy blood lipid values are a decisive factor in ensuring that our cardiovascular system runs like clockwork. To keep the cholesterol level in balance, certain phytochemicals, the phytosterols, can be helpful. FiboCHOL® combines phytosterols (VITASTEROL®), soluble dietary fibres from acacia fibre (FibregumTM) and gluten-free dietary fibres from oats, which also provide valuable beta-glucans. The composition is rounded off with calcium and artichoke juice powder, and the practical ready-to-go sticks make it easy to take with you when you are on the road. FiboCHOL®
With vegetable phytosterols (VITASTEROL®) to support normal cholesterol levels
A daily intake of at least 800 mg of phytosterols helps to maintain normal blood cholesterol levels.
Combined with oat fibre rich in beta-glucans and acacia soluble fibre (FibregumTM)
Rounded off with artichoke juice powder standardised on the ingredient cynarin, practical for on the go - thanks to the handy and easy to dose stick form
Possible applications: • To maintain normal blood cholesterol levels • For the supply of valuable phytosterols and dietary fibres Bioavailable micronutrients in pure form • According to the pure substance principle • Free from additives • Without colorants, flavorings and coatings • Gluten Free • Lactose free • 100% vegan • Hypoallergenic • Tested quality
Directions
Ingredients: Oat fibre** (contains beta-glucan), Plant sterols (31%), acacia fibre, calcium carbonate, artichoke juice powder. ** gluten free.
Daily dose per stick (4.1 g)
RMV*%
Oat fibre**, containing: Beta-Glucans
1670 mg 450 mg
Phytosterols (VITASTEROL®)
1250 mg
Acacia fiber
750 mg
Calcium
160 mg
20 %
Artichoke juice powder containing: cynarin
150 mg 3.8 mg
* % OF NUTRIENT REFERENCE VALUES. RECOMMENDED DOSAGE: Daily dissolve the content of one stick (4.1 g) stir into plenty of water (approx. 150-200 ml) and drink with a meal. Tinka veganams. Food supplement: The recommended daily dosage should not be exceeded. No substitute for a balanced and varied diet and a healthy lifestyle. Suitable for diabetics.