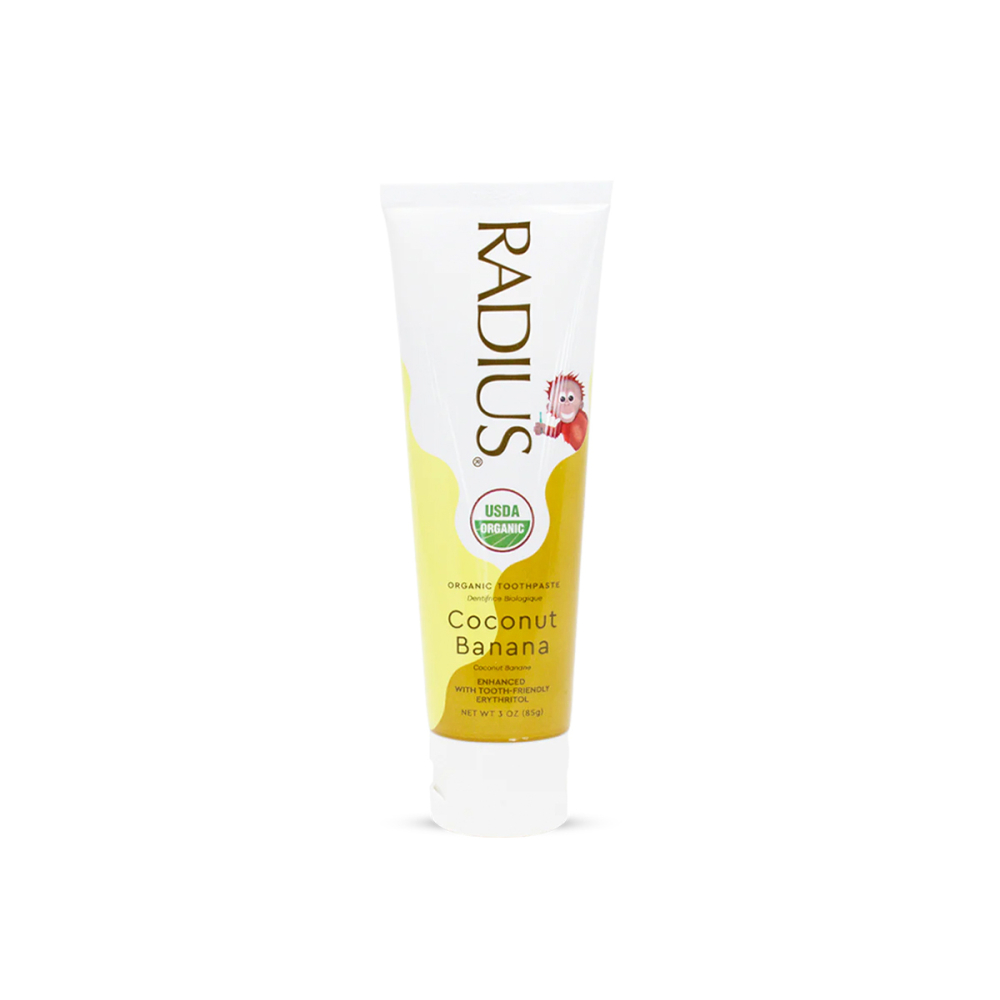 USDA Organic Toothpaste Coconut-Banana for kids 85g
Product Code: 832
Pristatymo sąlygos
OMNIVA terminal (Baltic states)
From: 2.50€
VENIPAK terminal (Baltic states)
From: 2.50€
Delivery to door VENIPAK (Baltic states)
From: 3.20€
Delivery to door - DPD (Europe, except Baltic states)
12.00€
Description
Do more with your two minutes and organically refresh your brushing routine with our new USDA Organic Gel Toothpaste. A unique blend of plaque-fighting organic erythritol, nutrient-rich coconut water, calming chamomile flower, and a light, natural foam gives you that fresh-from-the-dentist feeling without any harmful additives.
Ingredients
Glycerin*, Aloe Barbadensis (Aloe Vera) Leaf Juice*, Cocos Nucifera (Coconut) Milk Powder*, Agave tequilana (Agave) Leaf Extract*, Water, Organic Flavors, Cocos Nucifera (Coconut Oil) *, Chamomilla Recutita (Chamomile) Flower Extract*, Tapioca Starch*, Calcium Carbonate, Cyamopsis Tetragonoloba (Guar) Gum*, Eucalyptus Radiata (Eucalyptus) Oil*, Cocos Nucifera (Coconut) Fruit Powder*, Equisetum Arvense (Horsetail) Leaf Powder*, Sodium Bicarbonate, Sapindus Mukorossi Fruit Extract*, Sodium Chloride, Xanthan Gum. *– from eco farms
Directions
Utterly Organic Just like our bestselling pastes, our new gels are USDA certified organic and don't contain any unpronounceable chemicals or additives found in similar products. No Nasty Ingredients Take a peek at our labels. You won't see any trace of chemicals, pesticides, GMOs, glutens, fluoride, saccharin, SLS, SLES, carrageenan, parabens, detergents, or synthetics of any kind. Just clean, natural, and safe ingredients. Tasty-But-Effective Flavors Our flavor combinations are as gelicious as they are effective. Made with organic rice powder to gently polish your pearly whites, try our earthy Matcha Mint or spice up your routine with our Clove Cardamom. Packable & Portable Every container is handily travel sized and TSA compliant, so you can enjoy the RADIUS toothpaste taste, feel and peace of mind wherever you go.