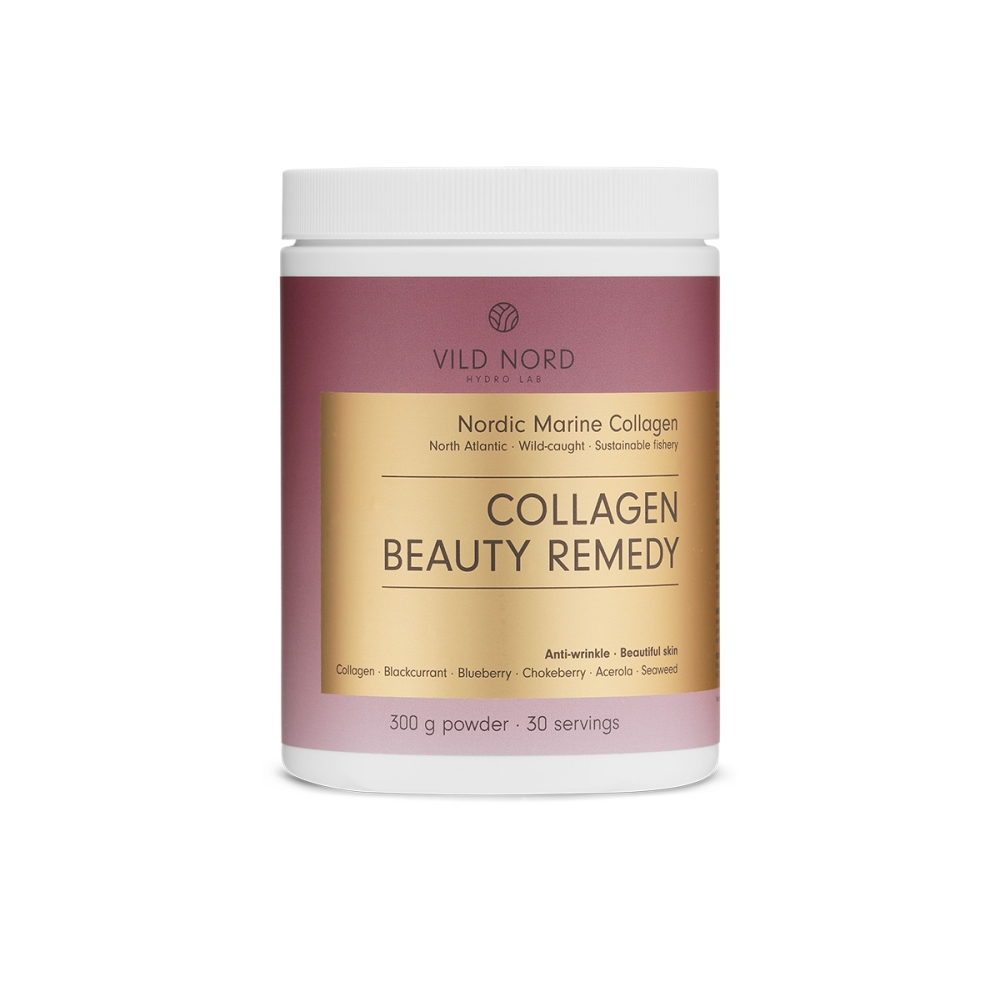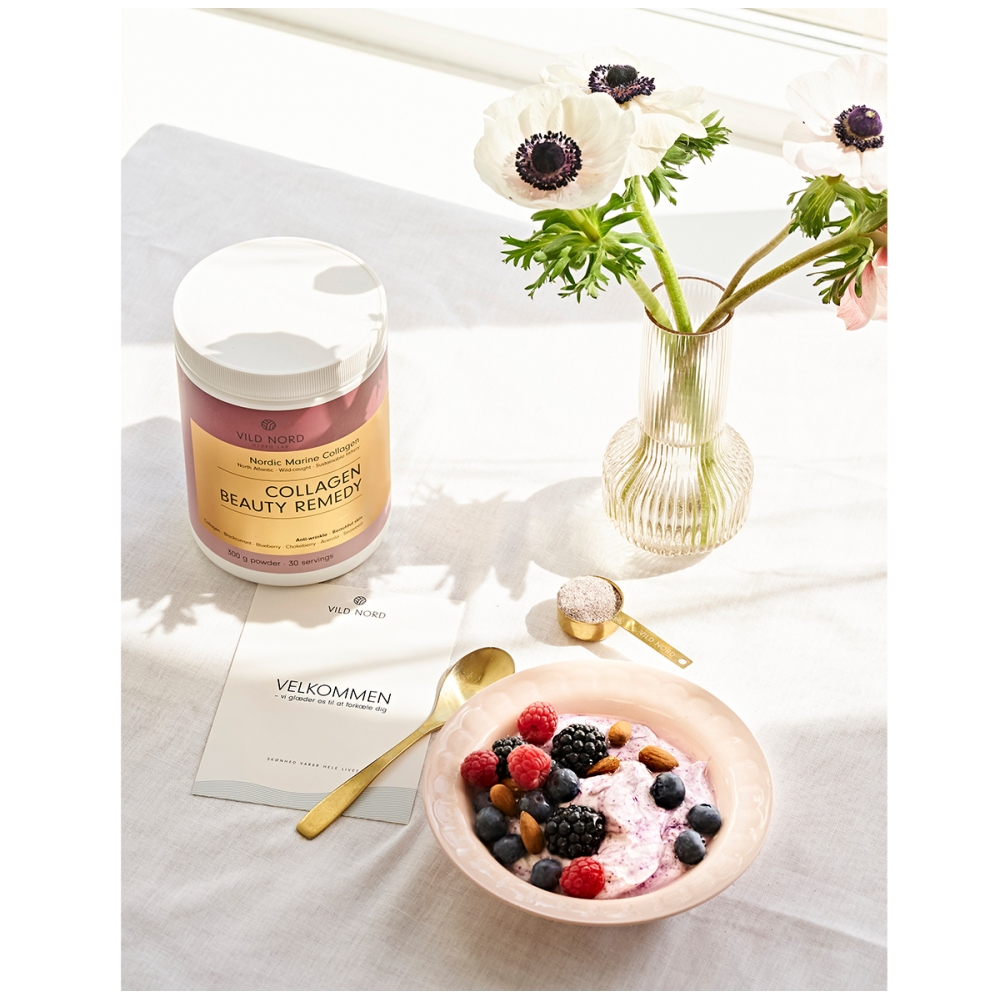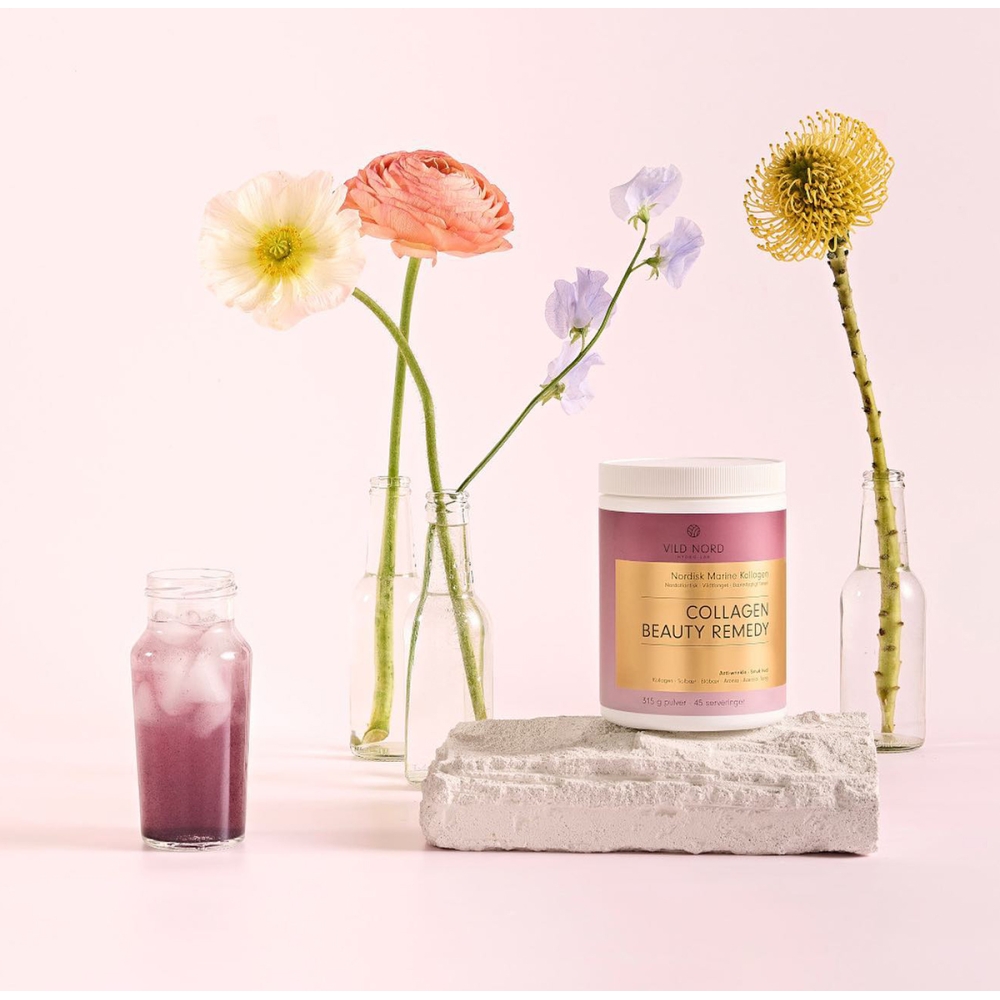 Collagen BEAUTY REMEDY
Product Code: 1203
Pristatymo sąlygos
OMNIVA terminal (Baltic states)
From: 2.50€
VENIPAK terminal (Baltic states)
From: 2.50€
Delivery to door VENIPAK (Baltic states)
From: 3.20€
Delivery to door - DPD (Europe, except Baltic states)
12.00€
Description
300g
COLLAGEN BEAUTY REMEDY is for you who want to benefit from nature's pure ingredients in your daily beauty routine.
COLLAGEN BEAUTY REMEDY is a unique blend of collagen from wild-caught cod, vitamin C from four different berries and iodine from wild harvested seaweed. Pamper yourself with this collagen formula, which contributes to beautiful skin.
Vitamin C from acerola, blackcurrant, blueberries and aronia supports the body's natural production of collagen that affects normal functioning skin. Vitamin C also protects the cells from oxidative stress and contributes to a normal immune system. Iodine helps to maintain normal skin, a normal production of thyroid hormones and a normal thyroid function.
COLLAGEN BEAUTY REMEDY is the essence of natural beauty.

• Marine collagen from wild-caught North Atlantic cod
• Complete amino acid profile with 9 essential amino acids
• Molecular weight of 3 KDA
• Low fat percentage
• Vitamin C from four different berries protects against oxidative stress and contributes to the body's own production of collagen
• iodine from sustainably harvested seaweed - extra support for maintenance of normal skin
• Beautiful Bordeax color and beautiful taste of blue berries
Ingredients
Hydrolyzed collagen of cod (FAO27) 67 %, blackcurrant 14 %, blueberry 9 %, aronia 6 %, acerola 5 %and seaweed (ascophyllum nodosum) 0.4 %.
May contain traces of crustaceans and mollusks.
Directions
Recommended daily dose for adults: 2 measuring spoons (10.000 mg) Vild Nord COLLAGEN BEAUTY REMEDY is mixed in 200-300 ml optional liquid 1 time daily.

The fine powder has a beautiful bordeaux color and the most beautiful, light scent and taste of blue berries. Tempt the senses and care for yourself with a Beauty sky or a delicious purple smoothie with almond milk, lemon and ginger.


Use yours Vild Nord® collagen product as part of a varied and balanced diet and healthy lifestyle.
The durability of the product is best before 24 months after the production date in unopened packaging.
The product should be stored dark, dry and below 25 degrees. After opening, the product can advantageously be stored below 20 degrees.
Vildnord® is produced in Denmark for Tellusvitae ApS